EnerTribe is a Native and Woman owned consulting firm
We specialize in tribal government and tribal enterprise with a focus in environmental, cultural, communications & broadband, funding, permitting, engineering and economic development. We provide services to tribal governments, tribal enterprise, non-profit and for-profit companies, government agencies, municipalities and others. Our company is staffed with industry professionals with decades of experience in environmental compliance, permitting, cultural, telecommunications & broadband, economic development, project management, grant funding, construction oversight and engineering. Most of us at EnerTribe were born and raised in and around tribal government and tribal enterprise. We have had the privilege of assisting tribes build infrastructure, companies, separate business from government, create and sustain entire departments, and fund long-term economic development projects. Our unique understanding of the intricacies of tribal governments have opened the door to servicing companies and government agencies looking to do business in Indian Country, companies needing assistance in stabilizing projects among an ever-changing government structure and even new vertical formation and training needed to keep pace with a growing market.
EnerTribe has successfully funded projects worth over $450m
Our goal is to assist tribes, governments and companies in successful partnerships. We author a quarterly article for the TribalNet Magazine and contribute grant applications to one tribe each year. To date EnerTribe has successfully funded over $450,000,000 worth of projects in and around Indian Country in addition to helping carry them out. We have secured funding from dozens of agencies. We are currently operating projects varying from simple services to as large as 25+ million dollar infrastructure & economic development projects. Each tribe, government and company are unique to their needs and structure. We do not believe in a "one size fits all" approach and as such have made many successful companies and partnerships over the past ten years. We are well experienced in working with tribal leadership, department heads, government officials and funding agencies, permitting, environmental and cultural departments of the tribe, the federal government and the state. If you are a tribe, consider asking us for an initial meeting to determine if we are a good fit for your needs. We do provide free initial consultations. If you are a for-profit company, we'd be happy to conduct an introductory presentation and learn.
Our Commitment
Whether you are a tribal government, tribal enterprise, government agency or company we are committed to working with those looking to do business in and around Indian Country. Please feel free to reach out for more references, past work or a free consultation to help determine how we can best serve you. Shu' shaa nin-la (Thank you), for your interest! We look forward to working with you and your team!
Forest James
EnerTribe, Inc. Chief Executive Officer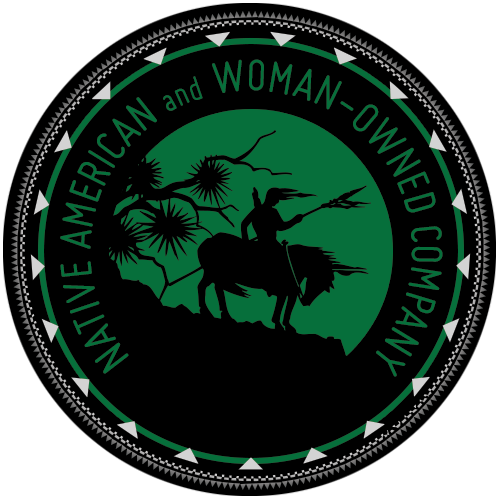 Forest James (Ch'ee-taa-ghee-ne)
CEO
An artistic thinker from childhood Forest has a creative & diverse secular background ranging from over a decade in the film and entertainment industry to building telecommunications companies for Native & Rural America.
Joni Theobald
Chief Operations Officer
Joni Theobald is a member of the Lac du Flambeau Lake Superior Chippewa Tribe in northern Wisconsin and has worked in fields of technology since 2010.
Tamara Eden James
Chief Financial Officer & Principal
As co-owner, Tamara has been able to watch EnerTribe grow to meet the needs of tribal communities and makes sure the company and team remain sustainable in their work.
Read More About Forest
An artistic thinker from childhood, Forest has a creative & diverse secular background, ranging from 20+ years in film and entertainment to planning, funding, and building infrastructure projects for Native & Rural America. Forest is an enrolled citizen of the Tolowa Dee-ni' Nation and has spent many years in and around tribal government and tribal business. Forest has 10 years of experience as a wireless engineer, designing and constructing city-wide and reservation-wide Wireless Internet Service Providers (WISP). In recent years Forest represents a consortium of native & woman-owned companies that assist in the stabilization of intergovernmental infrastructure projects, assist in the mediation between federal, state agencies, tribal governments, and tribal businesses. To tribes, he has helped execute planning, funding & build efforts with the goal of economic diversity for our tribal communities. To providers, Forest helps structure and mitigate risk for projects and investments throughout Indian Country. Forest can assist in the successful execution of federal, state, and private funded infrastructure projects (e.g. energy, telecommunications, data centers, agriculture, etc.).
In the past, Forest spent 8 years as the Vice President of Datasat Technologies for North America, in charge of product development, contract manufacturing, new vertical formation and product offerings. Forest spends a great deal of time assisting communities with telecommunications infrastructure, data centers, renewable energy, and large-scale agriculture.
Read More About Joni
Overseeing the daily operations of EnerTribe, Joni brings with her extensive broadband and management experience. As a member of the Lac du Flambeau Lake Superior Chippewa Tribe in northern Wisconsin, Joni has worked to bring broadband to tribal lands and participated in efforts to bring more economic and education opportunities to rural Wisconsin. She has assisted the FCC in organizing a regional tribal workshop, as well as presenting on FCC panels for the Connect America Fund and understanding E-Rate (USAC), and served on the National Congress of American Indians (NCAI) broadband committee. This background gives Joni and inside knowledge of both the regulatory processes and body, as well as the end-user experiences with broadband in Indian Country. Joni can apply all of this knowledge directly to her work at EnerTribe in managing operations and personnel in a field she knows well and is passionate about.
Read More About Tamara
With a 15-year background in business administration, Tamara is co-owner of EnerTribe and serves as CFO, she also holds the position of CFO in EnerTribe's sister company, Earthprint Technologies. Tamara has been able to witness the growth of EnerTribe as it adapted to fill the needs of tribes looking for improved quality of services and its progression into the successful company that it is. Her focus on management policies that keep the company healthy and the team supported have certainly contributed to the success and growth of the business. More than just figures, the tribes and providers that EnerTribe is privileged to work with have in Tamara someone who cares about the experience and teamwork necessary to carry a project to a successful finish.
Rebecca Lin
Senior Project Manager
As a former strategic marketing and project specialist, Rebecca helps EnerTribe build reports and coordinate projects.
Ruby Huang
Executive Project Manager
Ruby is a highly motivated and experienced business professional. She has a diverse background in high technology, information systems integration, and the retail industry. Her cross-industry expertise is a valuable asset for EnerTribe.
Daniela Sossa
Financial Strategist / Program Manager
Daniela has an enormous interest in finance and economic development. She worked at the Central Bank of Colombia in the International Affairs Division for almost six years, where she learned essential skills to manage operations and teams.
Read More About Rebecca
Upon obtaining her Bachelor's in Business Management and Information Science in Pretoria, she relocated to London, received her first Master's in Management, and started her career in a global bank. Before moving to the U.S., Rebecca also created her event planning brand. She also received her second Master's in International Public Policy and Management and Marketing Communications Management from the University of Southern California (USC) in Los Angeles.
Rebecca is a multicultural global citizen who has lived on four continents and spent time in 26 countries. She is passionate about design, architecture, languages, and making food. She reads and draws mindmaps on everything and anything in her spare time.
Read More About Ruby
Ruby is results-oriented, and people focused. Previously, she managed the Taipei Metro IT infrastructure upgrade in Taiwan. As a Project Manager for EnerTribe, she coordinates with government agencies and private firms to develop broadband infrastructure and telecommunication solutions.
After completing her bachelor's degree in Philosophy, Ruby's passion for public affairs led her to the US, where she received her Master's in International Public Policy and Management degree from the University of Southern California.
Read More About Daniela
With an enormous interest in finance and economic development, Daniela is ideally suited to her role as the Financial Strategist at EnerTribe. While in Colombia, Daniela received her Masters in finance and worked at the Central Bank of Colombia in the International Affairs Division for almost six years, where she put her training to use and learned essential skills to manage operations and teams. She then went on to work at the Superintendence of Finance, overseeing the financial performance of local banks. This experience led her to pursue her second Masters, this time in International Public Administration, which she received from the University of Southern California. A desire for a job with social impact led her to EnerTribe, where she does financial analysis for the company and planning for projects that benefit the tribes they serve.
Gilbert Martinez
Field Engineer
Having started out pursuing a degree in Biochemistry at Southern Oregon University early on, Gilbert later took an opportunity to assist in Disaster Relief work after Hurricane Katrina hit the Greater New Orleans region.
Chris Fikert
Senior Wireless Engineer
Chris truly has a passion for the wireless field, new technologies, and devices that drive innovation, this makes him the perfect guy to serve as EnerTribe's Wireless Engineer.
Brent McFarland
Chief Strategist
Brent McFarland has worked as an economic development professional since 2008, specializing in Native American Indian Tribal economic development. He started out serving in executive roles for a tribal member-owned company, and then progressed to tribal-owned business development corporations.
Read More About Gilbert
He spent almost a year in this environment rebuilding homes after the disaster, learning from many talented individuals in the construction trades. After returning he built a reputation as a talented and detailed construction and remodel contractor. An avid outdoorsman and traveller, he is very comfortable being in remote areas, off-grid and with limited reception and resources. This background has proven invaluable when working with many of Ener Tribes Native clients as they are oftentimes in remote areas and require many off grid, remote sites to sustain their telecommunication needs.
Gilbert is a problem solver and creative thinker, when a challenge presents itself he views it as an opportunity to create a solution instead of focusing on what caused the problem. As the Field Engineer for Enertribe, he will coordinate with all of the contractors and builders in developing or refurbishing towers, huts and other communication facilities. His innate ability to see the big picture as well as the small details allows him to successfully coordinate several teams during deployments, keeping the projects on track.
Read More About Chris
Chris truly has a passion for the wireless field, new technologies, and devices that drive innovation, this makes him the perfect guy to serve as EnerTribe's Wireless Engineer. Since graduating from UC Berkeley over 20 years ago, Chris has worked with a wide range of wireless technologies ranging from UHF RFID to Indoor/Outdoor Wi-Fi to Fixed Wireless, Millimeter wireless and LTE. That means Chris knows the best wireless solutions to meet various needs found throughout the implementation process of an infrastructure build. As a former sales engineer for Symbol Technologies, Motorola, and Cambium Networks, Chris also holds a wealth of product and installation experience to ensure EnerTribe's projects are backed with the best available hardware and support solutions. His easy-going attitude and attention to detail also make him a huge asset in the field for support and training during the installation process.
Read More About Brent
Brent's skill at developing business concepts into mature, profitable enterprises has elevated him to a highly sought advisor for Native American Indian tribes. He has been a speaker at the annual economic development conference hosted by the National Center of American Indian Economic Development and at numerous regional tribal economic development summits.
Brent is one of the founders of Tribal Business Journal magazine. Since 2008, he has been directly responsible for creating more than 40 tribally owned businesses through start-up or acquisition, resulting in the generation of $1 billion in assets.
Brent engaged EnerTribe with the mission of bringing the highest quality partnerships and business structure to tribal clients, capital partnerships, and servicing vendors. In today's world, this construct is more important than ever and requires a combined effort by all parties to be successful. His team has successfully managed this process with current tribal clients and vendor partners.
Brent received his baccalaureate in history from Ripon College. His career has been focused on entrepreneurial ventures spanning wealth management, Registered Investment Advisor , restaurant businesses, real estate development, and consumer lending. Brent has served on numerous panels and boards including the Wisconsin Economic Development Association, the Native American Financial Services Association, and the Small Business Regulatory Enforcement Fairness Act panel for the Consumer Financial Protection Bureau's proposed rule changes. He currently serves as EnerTribe's Chief Strategist, working directly with sovereign tribal nations to promote economic development in tribal communities.
Kelly Jackson
Permitting Specialist
Kelly Jackson, an enrolled member of the Lac du Flambeau Band, has over 28 years of experience in tribal relations.
Bobby Castillo
OSP Technician & Technical Writer
Bobby's construction background and passion for making a difference make him a great asset to the team and perfect for his role.
Andrew Molinsky
Content Creator & Technical Support Specialist
With a varied creative and technical background, Andrew serves as EnerTribe's in-house Content Creator and Technical Support Specialist.
Read More About Kelly
Kelly Jackson, an enrolled member of the Lac du Flambeau Band, has over 28 years of experience in tribal relations. She has served in a number of tribal, state and federal Director/Administrative positions in addition to serve private sector and business development corporations. Jackson established InnoNative Solutions, LLC, a professional services consulting firm specializing in government relations, historic preservation, environmental management, business development and training. She has also founded several non-profit organizations. She continues to serve on various boards and teams that support tribal growth and sustainability. Her accomplishments while serving in the various positions held throughout her career demonstrate the quality, commitment and expertise Ms. Jackson delivers when working with industry.
Kelly is a "Rock Star" too, as the owner of Spirit of a Women Productions, an entertainment firm offering services in Indigenous music and entertainment. She is an international award winning recording artist with a special interest in women's personal and professional development.
Read More About Bobby
Raised in Southern Arizona, Bobby witnessed the challenges faced by border communities, which fueled his passion for making a difference. Having grown up working alongside his father in the construction industry, he developed a strong work ethic that he values deeply. Bobby recognizes the importance of building connections and believes in effective communication as a cornerstone of success. With natural curiosity for learning, Bobby strives to embrace new challenges and continually seeks personal and professional growth. This blend of interests and background make him well suited to his role at EnerTribe, as an OSP Technician and Technical Writer.
Read More About Andrew
With a varied creative and technical background, Andrew serves as EnerTribe's in-house Content Creator and Technical Support Specialist. During a decade with the Jackson County Library District, Andrew oversaw a number of new marketing initiatives, including an award winning campaign for digital literacy outreach. He also leveraged a background in video production–including previous project work for EnerTribe–to create an in-house production division of marketing for the 15-library system. Meanwhile, side projects including publication of a novel, serving as a freelance cinematographer and video editor, as well as volunteer outreach and appearing in front of the camera on a limited-run YouTube series, occupied the rest of his time. Now, as a regular member of the EnerTribe team, Andrew is eager to bring that experience fully to bear on exciting new projects and initiatives in the works here at EnerTribe.
Ron Flavin
Director of Grant Services
Ron was an Apache native and the Director of EnerTribe's grant services department
Dr. Penny Eckert
Environmental & Permits Director
Dr. Eckert has over 30 years of experience in natural resource management, research, and education.
Read More About Ron
Ron was an Apache native and the Director of EnerTribe's grant services department. Sadly, Ron passed away in 2021 during the COVID-19 pandemic. As a principal at EnerTribe, Ron was an Apache Native, funding strategist, and grant specialist who raised more than $450 million over the last 20 years in authoring successfully funded competitive grant proposals and cooperative agreements for non-profit organizations, governmental agencies, and private sector companies. Ron was a published author on the topic of grants and served as a subject matter expert working for the federal and state funding agencies as a grant reviewer. He graduated from Nova Southeastern University where he earned his doctorate of business administration. Quite simply, Ron was responsible for much of EnerTribe's success in the past 14 years.
Read More About Penny
She has worked extensively with watershed analysis, land use, land tenure, and land management analysis. She has worked both nationally and internationally with environmental impact assessment of large and small projects, and has authored numerous environmental documents. She has led interdisciplinary teams in complex environmental assessment projects and has been responsible for the completion of the technical reports. In addition to her technical skills, Dr. Eckert excels at establishing successful working relationships with regulatory agencies and negotiating terms and conditions of environmental permits that are practical, economically feasible, and environmentally compliant. Her skills in strategic thinking and her inclusive approach to project leadership have enabled her to be successful in complex problem solving and in finding solutions that are acceptable to all parties. Dr. Eckert is an experienced project manager with specialized skills in federal and state environmental permitting and compliance. She has worked with clients in the private and public sectors to successfully analyze and permit projects. She has managed projects ranging in value to $10 million, and projects of both short and multi-year duration.